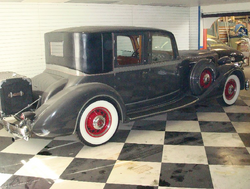 The 1926 Martell-Werner Type 28 "Tacchini" is a luxury limousine built for King Danilo III of Juliana and presently owned by Palace of Pisona.
Martell-Werner was a luxury manufacturer from Brunant which started out building five cars per year. They produced 33 Type 28 cars from 1926 to 1931.
Provenance
Edit
The 1926 T-28 built for the king was the third T-28 ordered that year. The car was given a custom factory body and shipped to the king in 1937. Specifications included a 235 horsepower straight six, capable of around 90 mph.
By 1935 the king wanted a more modern coachwork and took his car to Tacchini, who produced a stunning landau limousine body. He also wrote to Martell-Werner to have improved parts sent over. After World War II it was presumed to have been lost or destroyed, but the car showed up in France in 1951, apparently having been sold by the King's family. It was sold to unnamed man and the car disappeared from sight until 1999.
The car was being sold by the man's family but the Palace of Pisona was able to arrange a sale for €168,000 in order to return it to its original home. The car required significant mechanical restoration but was largely left untouched on the exterior, being simply polished and cleaned. Today it is visible as part of the tour in the palace alongside the other royal cars which remained in the country after World War II.