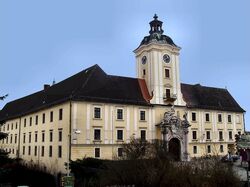 The Abbey of St. Lucia is an abbey located in Sveta Lucia. It was built from 1683 to 1700. This is a typical baroque structure, built by the same architect, a German, who designed the St. Lucia Church. The Benedictine nuns have lived and worked in the abbey since 1690, making it one of the oldest occupied buildings in town.
The Abbey of St. Lucia began construction in 1683, across a green field (now the Church Park) from where the church was located. Heinrich von Behren was brought in to design the building, as he had done so for the church.
Ad blocker interference detected!
Wikia is a free-to-use site that makes money from advertising. We have a modified experience for viewers using ad blockers

Wikia is not accessible if you've made further modifications. Remove the custom ad blocker rule(s) and the page will load as expected.