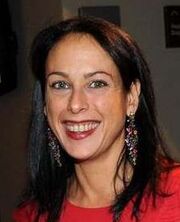 Alessandra Primo
 (December 3, 1958) is a Julianan professor, TV host, and wife of
Giovanni Primo
. Born
Alessandra Di Bosco
, she is well-known for her charity and her history of anti-communist involvement during the Communist regime.
Oftentimes described as an academic, she has taught at the University of Pisona since its establishment. In recent years, she has made an increasing number of public appearances after having focused upon raising her four children for most of the 1990s and 2000s.
Biography
Edit
Family Life
Edit
Ad blocker interference detected!
Wikia is a free-to-use site that makes money from advertising. We have a modified experience for viewers using ad blockers

Wikia is not accessible if you've made further modifications. Remove the custom ad blocker rule(s) and the page will load as expected.