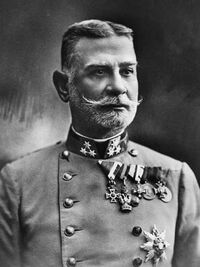 Andrija Nemanič (1873-1942) was a Julianan general and commander of the Julianan Army during the period of the Italian Invasion of Juliana. He was already a commander in World War I, but in 1940, King Danilo III of Juliana selected him as the supreme commander of Juliana.
He could not save Juliana from the invasion and he joined the resistance movement, but because he was already old, he died in 1942.
Ad blocker interference detected!
Wikia is a free-to-use site that makes money from advertising. We have a modified experience for viewers using ad blockers

Wikia is not accessible if you've made further modifications. Remove the custom ad blocker rule(s) and the page will load as expected.