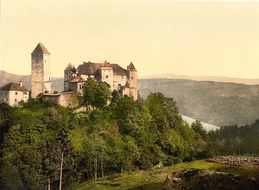 Castello di Avia
is a medieval castle that is near
Avia
in the north of
Juliana
. The castle is from the 13th century but it was modified until 17th century to keep up with the times. The castle is famous because it is the home of
Peter Premis
and all of the Dukes of Avia.
The castle has four square towers and a big square tower. It is near the border of Italy, north of Avia and it was important to the defence of Juliana in the medieval period, because it was the biggest castle. In the communist period the castle was a prison. Now it's a tourist attraction since 1960 and it isn't part of the defense of Juliana.
Ad blocker interference detected!
Wikia is a free-to-use site that makes money from advertising. We have a modified experience for viewers using ad blockers

Wikia is not accessible if you've made further modifications. Remove the custom ad blocker rule(s) and the page will load as expected.