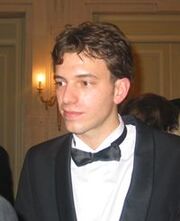 David de Bernières
(March 2, 1980) is a French-
Juliana
architect and the pretender of the
monarchy of Juliana
. He was born in Lyon. His great-great-grandfather was King
Danilo III of Juliana
. In 1984, his family was the first royals that were allowed to return to Juliana in 43 years. Since 1986 he has resided in Juliana. He studied at the
University of Pisona
 in 1998. He was a designer of
Porta Shopping Centre
that was built in 2010.
He is married to Silvia Portas, with whom he has two children:
Clarissa Porta-Bernières, 2010
Andre Porta-Bernières, 2013
David is the 6th cousin thrice removed of Manuela de Putifigari-Arcais (the claimant of the Traspesian royal family), 8th cousin once removed of King Oscar III of Strasland, 9th cousin of Queen Helene of Brunant, King Hendrik of Libertas and King Sebastian of Lovia, 10th cousin of King Jean-Louis II of Cettatie and King Edward of Kemburg.
Ad blocker interference detected!
Wikia is a free-to-use site that makes money from advertising. We have a modified experience for viewers using ad blockers

Wikia is not accessible if you've made further modifications. Remove the custom ad blocker rule(s) and the page will load as expected.