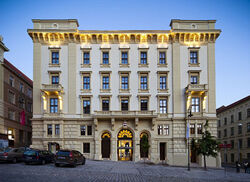 The Hotel Majestic is a historic hotel in Pisona, owned by Majestic Hotels. This is the flagship hotel in the chain. It was built from 1910 to 1913 in Pisona Centre, on the famous Carlotta Avenue. The building features typical palatial architecture though the interior has many Art Nouveau decorations.
The Majestic is presently 102 years old. It originally served as a hotel until World War II and the Italian invasion. During the war years, it was used by the Italian Army to house officers and was badly damaged. After the war the building was in decay until being refurbished as an apartment in 1949. After the transition to democracy the government began to empty the building and in 1986 it was sold to the now-owners of Majestic Hotels, who had it refurbished and restored to reopen in 1988.
There are 85 rooms in the hotel, 25 single rooms, 35 double rooms, 15 "Pisona" suites, 8 "Majestic" suites and two top-floor Pavilion suites. Prices range from 300 euros to 2000 euros per night.
Ad blocker interference detected!
Wikia is a free-to-use site that makes money from advertising. We have a modified experience for viewers using ad blockers

Wikia is not accessible if you've made further modifications. Remove the custom ad blocker rule(s) and the page will load as expected.