| | |
| --- | --- |
| The Ministry of Foreign Affairs warns against travel to the following countries: Chad, DR Congo, Burkina Faso | The Ministry of Foreign Affairs bans travel to the following countries: Tagog, Burenia |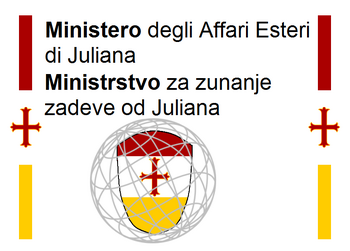 The
Ministry of Foreign Affairs of Juliana
(Minister degli Affari Esteri de Juliana/Ministrstvo za zunaje zadeve od Juliana) is one of seven ministries that form the
government of Juliana
.
The head of the Ministry is the Minister of Foreign Affairs, an office which is currently held by Giovanni Primo of the Positive Block.
The ministry has also some sub departments, like Juliana International Development Agency.
Alliances and Agreements
Edit
Embassies
Edit
Foreign Embassies in Juliana
Julianan Embassies Abroad
Ad blocker interference detected!
Wikia is a free-to-use site that makes money from advertising. We have a modified experience for viewers using ad blockers

Wikia is not accessible if you've made further modifications. Remove the custom ad blocker rule(s) and the page will load as expected.