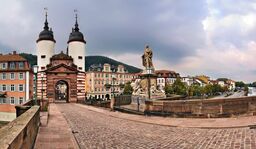 Molnica Bridge
(Molnica most) is a famous and historical bridge in
Strivica
, in the Old town. It crosses above the
Molnica
river. Molnica Bridge was built in 1429 to 1432. The bridge has a set of towers and a beautiful gate in the north part, in Akademija ulica. The street that is on the bridge is called Bridge Street (Mosta ulica).
Molnica Bridge is the oldest bridge of Strivica. The construction began in 1429. There was a wood bridge that crossed the Molnica before, but it was replaced by the Molnica Bridge. It was four years to finish building the bridge, because there was some issues with the workers.
Ad blocker interference detected!
Wikia is a free-to-use site that makes money from advertising. We have a modified experience for viewers using ad blockers

Wikia is not accessible if you've made further modifications. Remove the custom ad blocker rule(s) and the page will load as expected.