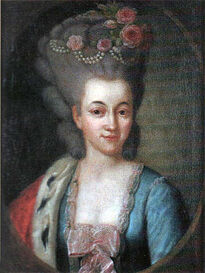 Sofia I of Juliana (1771-1860) was the Queen of Juliana from 1816 until her death in 1860. She was a monarch with one of the longest reigns in Europe ever. Sofia was the only child of King Danilo II.
She was once lived at Steenberg Castle in Libertas during Napoleon Bonaparte's reign in Juliana.
Sofia was married to Daniel of Leiningen-Dagsburg, a grandson of Princess Louisa Alexandra of Brunant. The couple had four children:
Ferrante (1788-1788)
Daniel (1789-1863)
Alexandra (1792-1794)
Alexandra (1795-1846)
Queen Sofia also created the famous Order of Queen Sofia in 1835.