Sveta Lucia is a historic church in Sveta Lucia. It was built in 1670-1675, in that period. Sveta Lucia is a beautiful gothic style church with a copper roof, and cream coloured walls. It is the oldest church in Sveta Lucia, located in the centre of the town. The bishop is Jure Kolar.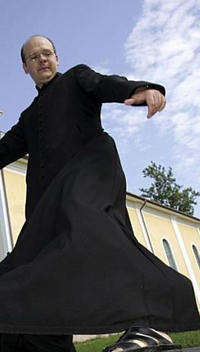 Sveta Lucia was started in 1670 and it took five years to complete. The first priest, Jakob Gregorčič gave the first mass in 1674, but when he was doing so one of the church bells fell from the tower. This caused caused some commotion among the people in church and one old man died of a heart attack. This is the oldest death record with the church. During World War II, the historic artifacts were hidden in a grave so they could not be taken by the Italians.
St. Lucia's is located in the center of Sveta Lucia, in front of the market square. It is close to the Town Hall and a Fresco supermarket. The church has a lovely garden and a small cemetery with some of the earliest inhabitants of the town.
Sveta Lucia has a lot of historic parish archives maintained. The chruch has detailed records up to the mid-18th century, and has documents before then dating to the late 1600s, but not as complete. Here you can find information on births, deaths, baptisms and more, to find out about life in past centuries.
List of priests
Edit
The current priest is Jure Kolar. He's a largely popular figure, especially with youth because he likes playing football, skateboarding and is relatively young.
1965-2010: Anton Novak
2010-present: Jure Kolar