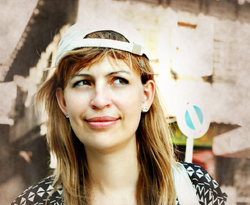 Tina Benčina (born 14 November 1988) is a Julianan politician and leader of Humane Juliana. Benčina was born in Sveta Lucia and was a founding member of the party, along with Erika Novak and John Barton. She was the youngest founder, only sixteen years old and in secondary school when helping create it in 2004. In 2014 she took over from Novak as leader.
Alongside the pomerianian dog mascot of the party, Katia, she is one of the leading figures and has moved to make the party more than just about animals, but also on the positive impact it can have on humans.
She is self-described as bisexual; she has had female partners but is presently with a male drummer formerly in a Czech punk band.
Ad blocker interference detected!
Wikia is a free-to-use site that makes money from advertising. We have a modified experience for viewers using ad blockers

Wikia is not accessible if you've made further modifications. Remove the custom ad blocker rule(s) and the page will load as expected.