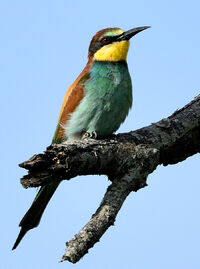 The yellow-faced roller (Coracias flavus) is a member of the roller family of birds. Before, people thought that the yellow-faced roller was a variety of the European roller, but since 1970, it was decided that it is a separate species.
The yellow-faced roller is mostly found in Juliana, in the western area, and in the past also was in Croatia. Since the 19th century, the habitat has been lost and the yellow-faced roller is endangerd and very rare. The bird is recognised as an endangered species by the Wikinational Conservation Organization.
Ad blocker interference detected!
Wikia is a free-to-use site that makes money from advertising. We have a modified experience for viewers using ad blockers

Wikia is not accessible if you've made further modifications. Remove the custom ad blocker rule(s) and the page will load as expected.